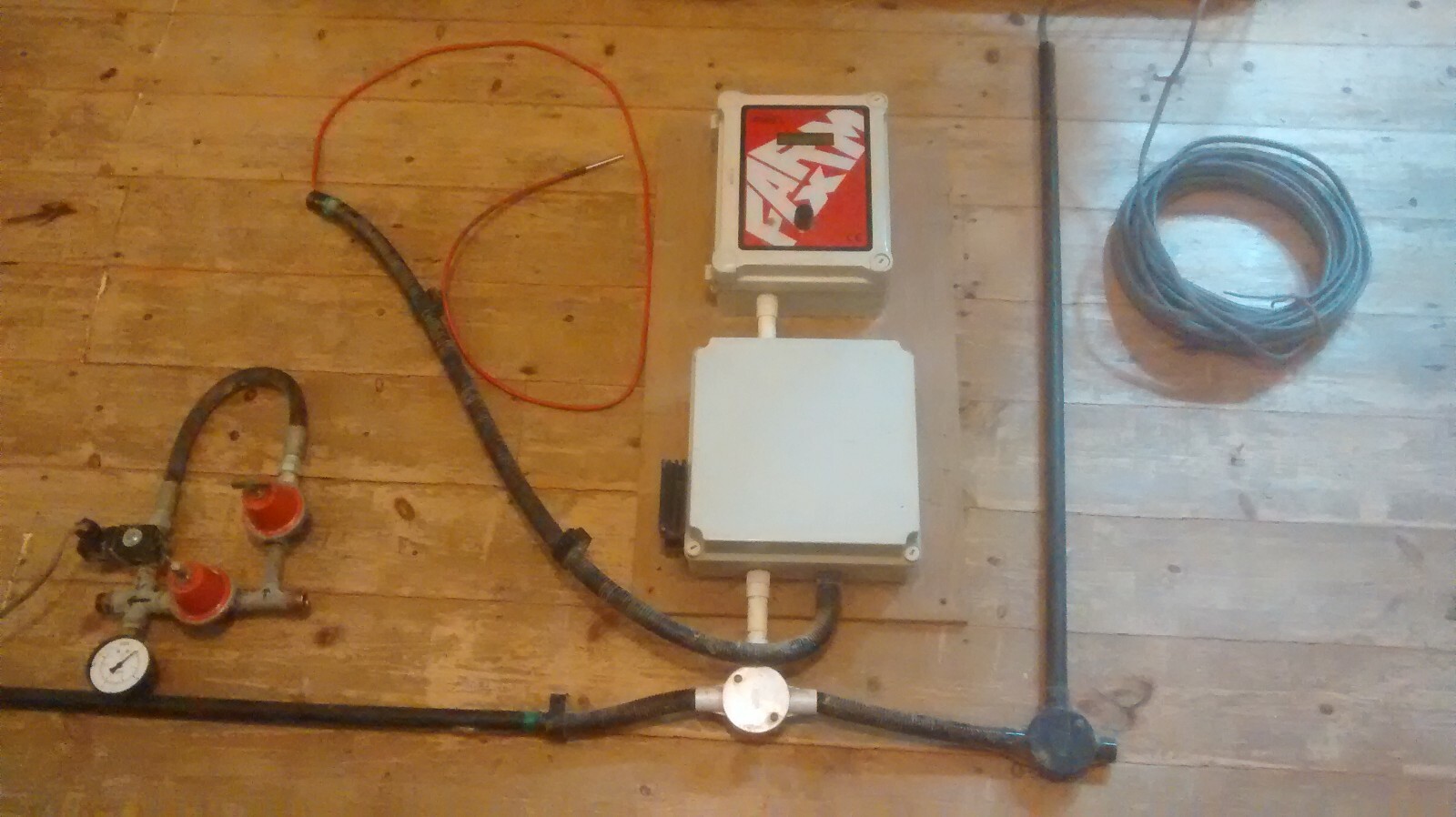 Click here to see similar items on eBay, and to buy.
Removed from a pheasant shed where it was used to regulate gas input to gas brooders. Important as it allowed accurate temperature across the building and efficient use of gas.Includes Diacam controller and gas switching unit as in photos.
This is what the manufacturer has to say about the system…..
Dicam ControllerA process control system designed to provide complete solutions for farmers and anyone else for that matter! Whilst the system can be used to regulate any process involving sensors, actuators, fans, heaters, dampers, fridges, pumps etc, it is most commonly used to control temperature in livestock buildings and crop storage facilities. Any kind of sensor can be connected to the controller and any kind of load can be switched or controlled. Dicam truly is a flexible, robust, reliable and future proof system. The secret is a common suit of hardware applicable to all control specifications coupled with advanced machine programming systems which allow the rapid development and testing of applications programs.The familiar dicam unit has an integrated processor and display board, switch card and applications board. The unit has 8 inputs and 8 outputs, built-in networking capability and a simple to navigate menu structure. Outputs are optically isolated from their selected driver units and the 24vAC power supply is typically battery backed up so the brains of the control system is robustly protected whilst cheaper load bearing drivers do the hard work of switching the output peripherals such as fans or heaters.
All this means that through networking to additional input/output devices any number of any kind of peripheral device can be controlled.The load per output channel is not restricted either as several drivers can be controlled from the same output channel.This truly innovative control system has been in the market for over 20 years which means it is very tried and tested. However, every year sees new applications being controlled across a diverse range of agricultural enterprises. In addition, as new information becomes available from systems monitoring so methods of control can be upgraded simply to the latest version making the dicam range future proof just as farmers like it!
Click here to buy, and to see similar items on eBay
---
Category: Business, Office and Industrial:Agriculture/Farming:Farm Implements and Equipment
Location: York