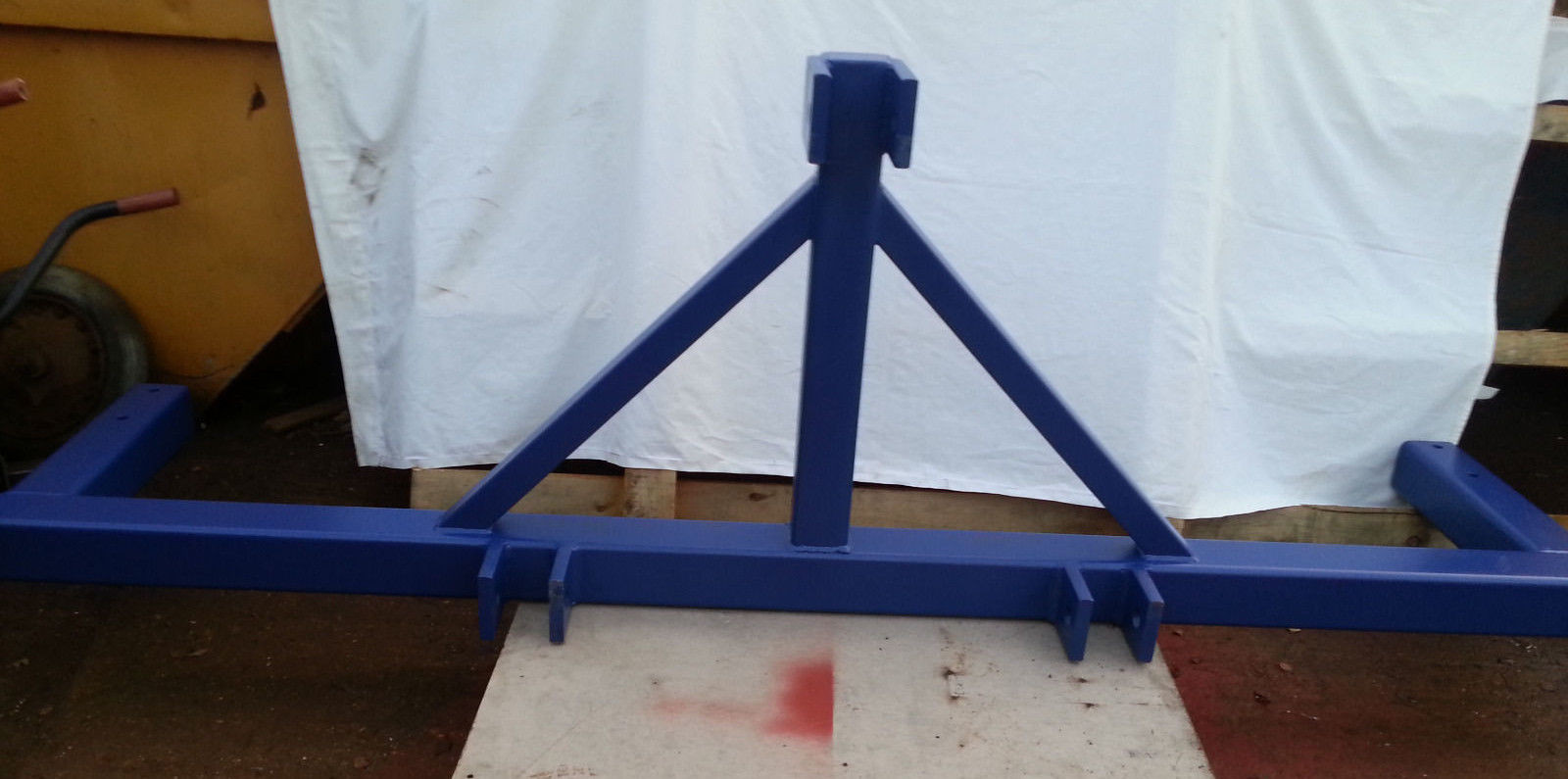 Click here to see similar items on eBay, and to buy.
3 POINT LINKAGE HEAVY DUTY FOR CAT 2 TRACTOR ACCESSORIES/ FARM ROLLERS/ HARROWS/ TRACTOR LINKS HEAVY DUTY NEW.
IT FITS TO  MOST ALL CAT 2 TRACTOR WITH STANDARD PINS/ BALL HITCH
THIS IS A STANDARD TYPE 3 POINT LINKAGE TO LINK AGRICULTURAL ROLLERS/ HARROWS/ CHAIN HARROWS OR OTHER  FARM EQUIPMENT WITH CAT 2 TRACTOR 30-60 HP.
Please check our 100% Positive Feedback- 100% Customer Satisfaction. Buy with Confidence!!! 
THIS IS MADE FOR HEAVY DUTY 7 FOOT 16″ DIA. CRIMPER ROLLER FOR A LOCAL FARMER.
PLEASE CHECK THE DIMENSIONS BELOW, WE CAN ALSO ALTER THEM TO SUIT YOUR REQUIREMENTS. PLEASE CALL US TO DISCUSS.
WIDTH: 93″
HEIGHT: 30″
LONG: 21″ (DEEP)
WEIGHT: 30-40 KG
IT IS MADE FROM HEAVY DUTY 3″ X 3″ STEEL BOX SECTION  (BOTTOM FRAME) FOR HEAVY DUTY APPLICATION.
Carriage/Transport is costly because of weight and size. We also offer Free local collection if you are happy to save on delivery charge. 
Delivery Charge is only valid for Mainland -England, Please ask for a delivery quote outside of this region.
PLEASE ALLOW US 5-10 WORKING DAYS TO MANUFACTURE FOR YOUR RIGHT ONE DEPENDING ON THE WORK LOAD.
WE CAN ALSO MANUFACTURE STEEL FRAME WITH 3 POINT LINKAGE FOR HEAVY DUTY ROLLERS/ HARROWS/ CHAIN HARROWS
(7,8,9,10 FOOT/ 16″,20″,24″,30″ DIA ROLLERS.)
 PLEASE CALL US/ MAIL US FOR YOUR REQUIREMENTS.
Please kindly provide your contact details so, palletnetwork guys can contact you before delivery. In case If you miss the delivery,they would charge 20.00 + VAT for redelivering. Also, we advise, please checkall the goods before sign POD on Delivery because they wouldnt accept anyclaim after that.
PORTAPACK ENGINEERING LTD
TEL: 01406 366677
E MAIL: SALES@PORTAPACK.CO.UK
 
Our Dedicated Engineering Services: Food Processing Machinery Specialists Engineering Breakdowns & Labour Supplier Sheet Metal Fabrication, Tig & Mig Welding Precision/Obsolete/Hardened Machine Parts Genuine Ink Jet & Laser Toner Cartridges Trader Transport & Agricultural Vehicles ( Lorry, Truck, Tractor, Trailer ) Body Works & Repairs Sports Car Engine Cylinder Head, Brake & Clutch Skimming, Metal Cutting, Boring & Drilling Steel and Aluminium Billets, Flanges, PTO Shafts according to customer Specifications. Agricultural & Precision EngineersCNC Lathe Turning & Milling Steel Fencing, Railing, Gates & Staircases Hydraulic Parts & Hose Fittings Industrial/Concrete Sprayers, Nozzles & Spares Prototypes & Product Developments Industrial Oil Filtration Equipments, Filters & Spare Parts Bulb Harvester & Potato Digger/ Hoover Manufacturer 
Wecan machine up to 29 in diameter and 6ft (2 meters) between centres.  Bore up to 24 diameter and 12 deep with all grades of mild steels, carbon steel, stainless steel, aluminium, brass metals and plastics.
 
We serve a range of Industries like Food, Farming, Oil, Gas, Automobile,Construction, Aerospace and work for the Ministry of Defence, Local Authorities, Hospitals, Garages, Schools, etc.
 
We have a large workshop with a number of latest CNC and Manual Lathes, Milling Machines, Welding Equipments, Cutting and Boring facilities on site.
 
We have been in business since 1985, highly experienced engineers for Engineering work, Machinery maintenance and Labour suppliers to the Farming and Food Industry locally, nationally and internationally. 
CNC MachiningPortapack Engineering are precision engineers offering CNC machining, milling, turning, drilling, threading and assembly services to customers in a wide range of industries, including tool making and pattern making, motor sport components, agricultural equipment and the automotive industry.
 
FACILITIES
Portapack Engineering offer an extensive number of specialist in house facilities that when supplemented by proven areas of local expertise allow the most demanding projects to be undertaken. This capability makes Portapack engineering a firm favorite with projects from the development and production of agricultural machinery to Formula One parts supply and the faithful recreating of those impossible parts.
 
MATERIALS
Portapack Engineering offer CNC precision engineered components in a variety of materials including standard ferrous, stainless steels, toolssteels, aerospace grade alloys, non ferrous metals, plastics, nylons and PTFE. So if you are looking for a quality supplier of CNC machining and other precision engineering services please do not hesitate to contact us.
     Manufacturing to Customer SpecificationsEngineering Breakdowns – we stop to get you moving againHardened Machine PartsObsolete and Difficult to Obtain PartsFencing, Fabrication and Welding WorkPrototyping and Product Developments
Click here to buy, and to see similar items on eBay
---
Category: Business, Office and Industrial:Agriculture/Farming:Farm Implements and Equipment
Location: Spalding