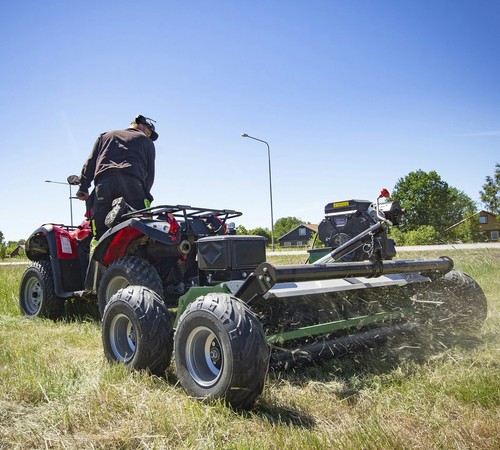 Click here to see similar items on eBay, and to buy.
Please contact us for current stock levels and availability. Kellfri 35-VKMATV150HXL Strongest ATV mower in the Nordic region 32 hammers Heavy duty 354 g / pcs: Strong cast for grass and slurry Working width 150 cm Strong bogies with two 19×7-8 wheels on each side Adjust the angle of attack with the screw thread underneath the drag Stable and smooth running through the sides of the tractor Front-end chain guard for rock shoots and rock splash Retractablerear hatch 23 hp V-twin engine with 673CC Electric starter Wheelbase 219 cm Removable drawbar, right-hung attachment andcenter-mountedattachment Heavy duty – for those who require it With the Kellfri Heavy duty flail mower for ATV you will be able to take care of your rugged terrain.
Powerful chassis and bogie make it manage most situations.Bogie allows the machine to travel smoothly and is consistent in rough and uneven terrain.
A roll of 354 g / h Heavy duty hammer allows you to cut coarse grass and heavy scrub. With its weight of 405 kg, there is plenty of good power to push down branches and vegetation, resulting in good cutting results.
To get maximum power transmission from the 23 hp strong V-twin engine to the roller, the flail mower has 3 pulleys and powerful belt tension.
The drawbar is adjustable in five steps, it can also be placed centrally on the chassis, which is unique to the industry.This way you can use the flail mower on both sides of your ATV, so you can have it centrally mounted and also right-hung on the chassis.
Increase speed Equipped with a cover at the back that releases the grass so that it does not get thick under the hood.You save fuel and wear on straps and you can also increase the speed of driving compared to mower ATV without hatch.The spread of the grass is also even and better. Clears tougher vegetation where groundbreaks such that tuber and roots can occur. Used primarily for cutting pastures, parks and roadsides. For extra rough terrain, it is advantageous to open the tailgate. The XL HD flail mower, built for long service life, allows you to spend money on other things Grease nipples on support and rotor roller bearing Dense cover over the straps The construction is fully protected but easy to access when cleaning, service and repair. Wide support roller rear.
The drawbar has five fixed sideways adjustments. Tips For best results and longer life of straps, we recommend cutting at a speed of 10 km / h if the grass is normal.For higher grass, raise the mower to the max and run twice. Assembly & Delivery The unit is delivered in a steel crate and you do need to do some final assembly yourself.Engine is mounted. Price to buy through eBay: 2490 Vat @ 20% 498 Total 2988 eBay fees 10% 298.80 Total 3286.80 Please contact us direct on 01388 608620 for further info on this or any of our other items for sale.
Click here to buy, and to see similar items on eBay
---
Category: Business, Office and Industrial:Agriculture/Farming:Farm Implements and Equipment
Location: Bishop Auckland, Durham