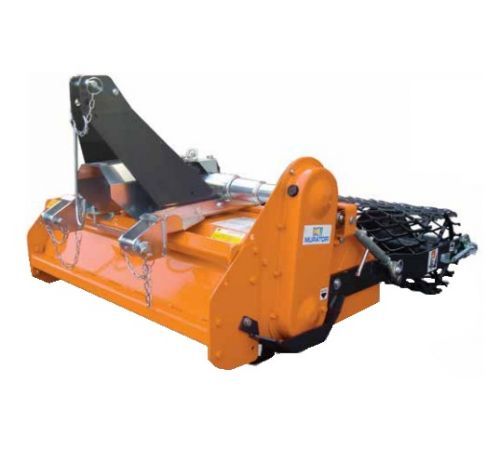 Click here to see similar items on eBay, and to buy.
       Wellington House, Lynn Road, Wisbech, Cambridgeshire. PE14 7AP
Tel: 01945 582223 – Mobile: 07780 61 41 51
E-Mail: sales@fnrmachinery.co.uk
Search FNR Machinery: ProductsManufacturersFNR MachineryContact FNRMURATORI Stone Burier Tractor PTO NEW GROUNDCARE library photo on main pic.
this is the actual item belowClick any photograph to view the full-size image.Stock Number: 1001
Date Added: 06/11/2015
Brief Description: MZ4SXL STONEBURIER FOR TRACTORS UP TO 35 HP Standard equipment: 3-Point linkage cat. 1 – Side chain transmission – Depth adjustment through leveling roller in expanded metal – 4 square blades each flange – Side offset – Drive line with slip clutch – Built according to the CE rules. This a great piece of kit for smaller tractors. We also keep a MURATORI Rotary Hoe and Flail in stock – please give us a call. Visitors are welcome, ideally give us a call first to make sure we are about. UK Mainland Delivery 60 +vat.
was Only 3,800 + VAT
ShareCall today on 01945 582223 or e-mail sales@fnrmachinery.co.uk
for more information or to arrange a viewing/demonstration.Similar MachinerySELECT id, title FROM stocklist WHERE id != 1001 AND cat1 = 2 OR cat2 = 9 ORDER BY id DESC LIMIT 5Customers who viewed this product also looked at…
NEW HOLLAND TC40DA COMPACT TRACTOR
sold ! DAKOTA TURF TENNER 410 TOPDRESSER ELECTRIC
TICKNERS TRAILERS ECO VALUE BOX TRAILER 6X4X4 VERY
FERRIS 48 ROTARY WALK ROUGH MOWER
MITSUBISHI MT301HD COMPACT TRACTOR 
      
We accept all major credit and debit cards. Return to Stock List  Why not subscribe to our email newsletter?
Email Address:  Wellington House, Lynn Road, Wisbech, Cambridgeshire. PE14 7AP
Tel: 01945 582223 – Mobile: 07780 61 41 51 – E-Mail: sales@fnrmachinery.co.uk
How to find us
Click here to buy, and to see similar items on eBay
---
Category: Business, Office and Industrial:Agriculture/Farming:Farm Implements and Equipment
Location: wisbech