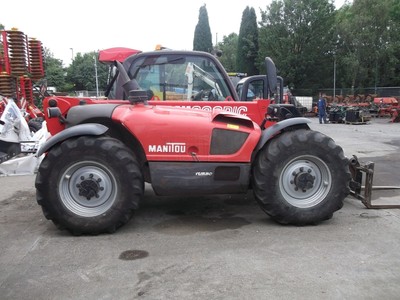 Click here to see similar items on eBay, and to buy.
Lloyd Ltd Newcastle  If you have any questions please contact Darren Butler on 07970 218308 or email darren.butler@lloydgroup.co.uk
Title: (N) Manitou MLT634 Telehandler – 61164649
Description:
DimensionsA. LENGTH TO FORK FACE15 ft in4579 mmB. WIDTH OVER TIRES7.6 ft in2325 mmC. OVERALL HEIGHT8.4 ft in2550 mmD. WHEELBASE8.4 ft in2560 mmE. GROUND CLEARANCE17.3 ft in440 mmLiftF. MAX LIFT HEIGHT19.8 ft in6050 mmG. MAX FORWARD REACH10.7 ft in3250 mmSpecificationEngineMAKEPerkinsMODEL1104D – E44TAGROSS POWER122 hp91 kwMAX TORQUE361.4 lb ft490 NmDISPLACEMENT268.5 cu in4.4 LASPIRATIONturbochargedOperationalOPERATING WEIGHT15322.1 lb6950 kgFUEL CAPACITY31.7 gal120 LHYDRAULIC SYSTEM FLUID CAPACITY33 gal125 LDRAWBAR PULL19346.7 lb8775.5 kgTIRE SIZE460/70-24 XMCLTransmissionTYPEtorque converterNUMBER OF FORWARD GEARS4NUMBER OF REVERSE GEARS4MAX SPEED – FORWARD26.1 mph42 km/hHydraulicPUMP TYPEelectronically regulated variable displacement pumpPUMP FLOW CAPACITY39.6 gal/min150 L/minLiftMAX LIFT CAPACITY7495.7 lb3400 kgMAX LIFT HEIGHT19.8 ft in6050 mmMAX LOAD AT MAX HEIGHT7495.7 lb3400 kgMAX FORWARD REACH10.7 ft in3250 mmMAX LOAD AT MAX REACH3306.9 lb1500 kgDimensionsLENGTH TO FORK FACE15 ft in4579 mmWIDTH OVER TIRES7.6 ft in2325 mmOVERALL HEIGHT8.4 ft in2550 mmWHEELBASE8.4 ft in2560 mmGROUND CLEARANCE17.3 ft in440 mmTURNING RADIUS OUTSIDE TIRES12.1 ft in3703 mm
Lloyd Ltd Price: 27600.00 price includes VATCollection welcomed from any Lloyd Ltd Depot with prior arrangement. Payment via BACS, PayPal, Cleared Cheque, Cash. This item is sold as seen with no warranty given or implied, you are welcome to inspect any of our equipment. Sold on a first come first served basis.
Click here to buy, and to see similar items on eBay
---
Category: Business, Office and Industrial:Agriculture/Farming:Farm Implements and Equipment
Location: Newcastle upon Tyne