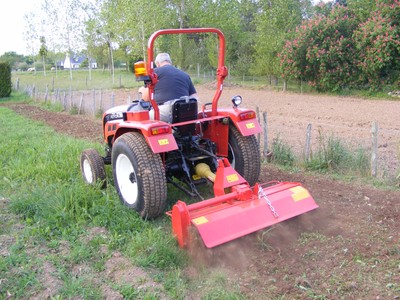 Click here to see similar items on eBay, and to buy.
MenuHome                      About Us            Shipping            Returns            Feedback            Add to Favourites Description Summary                          CITRAX TL135 Rotary Cultivator -1.35m Working Width  Main Description  CITRAX RT135 Rotary Cultivator                                   1.35m Working Width for 22  to 35hp Tractors                                                                                                  995 [INC VAT]                    Delivery Anywhere UK mainland 69 Please contact for other destinations Create the perfect seedbed or vegetable garden with a CITRAX rotary cultivator . These popular machines are ideal for nurseries and glasshouses as well as private gardens, and boast features such as adjustable tailgate and a powerful chain & sprocket transmission. Coupled to a compact tractor from 22hp+, the CITRAX rotary cultivator is CE Marked and also meets all UK guarding regulations. Heavy Duty – When the going gets tough, the new CITRAX heavy duty rotary cultivators really get going. Designed to provide additional tillage capacity, these machines feature highly durable mechanics and extra working width, and are suited to the more demanding user. Key Features –       Heavy cast gearbox       Chain & sprocket drive       Adjustable side skids       Adjustable tailgate       Available in 1.05m, 1.35m and 1.50m working widths PRODUCT:RT 105RT 135RT 150 HDWorking width1.05m1.35m1.5mOverall width1.15m1.45m1.6mHP required142228Weight106kg118kg158kgNo of Intermix blades202832 Additional InformationIf after browsing through our huge array of items you cannot find what you are looking for contact us. We will always go out of our way to source the product you are looking for.About Us
Foton Tractors is a family business and based in Kent. We are an importer of Foton tractors and Foton compact tractors into the UK which is authorised by Foton Lovol Heavy Industries who are China's 64th most valuable company with an annual turn over of 2.5 Billion US Dollars. Foton manufactured tractors have pased ISO9001 international quality system certification and in addition they have European Type Approval [EU] certification, meaning Foton products have been ratified for use in all EEC member countries. Foton Lovol Heavy Industries have tractors being exported to 116 different countries and regions throughout the world. Foton Tractors sell compact tractors up to 55hp and Citrax attachments for yard, paddock and field use at affordable prices. Our customers are equestrian yards, small holders, councils, schools, sports clubs, parks, landscapers, caravan sites, nurseries and anyone with a few acres who needs to cut grass or rotavate a vegetable patch. When you enquire about a Foton Citrax product your enquiry will be handled efficently by our experianced staff who can advise 24/7 on purchasing the right tractor and implements for the job. Every Foton tractor is delivered on our own transport and installed by a fully qualified technician to maximise performance and ensure safe operation. A full money back guarantee is given if you are not fully satisfied with your purchase. [not including transport] All our Citrax implements are and attachments are compatible with many other small tractors including Kubota, John Deere, Iseki, Meassey Ferguson, New Holland, Siromer, Jinma and all other popular makes.
READ THE FOTON BLOG ON OUR WEB SITE FOTONTRACTORS.CO.UK
HomeAbout UsPayment-and-DeliveryReturnsView FeedbackAdd to Favourites   01622 858 795   sales@fotontractors.co.uk  
Click here to buy, and to see similar items on eBay
---
Category: Business, Office and Industrial:Agriculture/Farming:Farm Implements and Equipment
Location: LENHAM, KENT