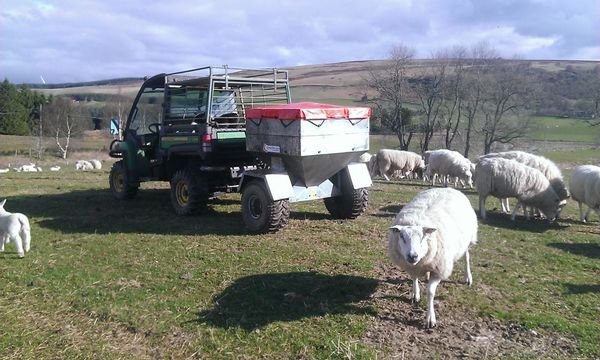 Click here to see similar items on eBay, and to buy.
Chapman SheepSnacker. CALL NOW on 08453731 832Sheep Snacker/Livestock Feeder – NEXT DAY DELIVERYFRESH GROUP – SHEEPSNACKERPrices quotedinclude FREE delivery (mainland UK only)NB: Price quoted is for a standard machine (mainimage shows extra-large flotation wheels and skip extensions)The Chapman TF350 ATV Livestock Feeder or SheepSnacker is the ideal solution to feeding sheep and cattle quickly andefficiently.Advantages of the TF350 Sheep Snacker/ATV Trailed Livestock FeederInstead of manually feeding usingbagged feed into animal troughs, the TF350 sheep snacker allows you toaccurately measure and drop the feed in correct amounts from 0.5 Kg to 2 Kgexactly where you want it (dependant on towing speed)     It can be easily towed behind an ATV Quad Bike/Utility vehicle,tractor etc.     It can cope with almost any terrain with its unrivalled 300mmground clearance.     The sheep snacker is manufactured from steel and is galvanisedfor lasting durability.     It comes with a choice of wheel and tyre options to suit your farmterrain.     Easy to read digital counter.Instead of manually feedingusing bagged feed into animal troughs, the TF350 sheep snacker allows you toaccurately measure and drop the feed in correct amounts from 0.5 Kgto 2 Kg exactly where you want it (dependant on towing speed)
Chapman TF350 Sheep Snacker at a Glance:      300 kg capacity 500 kg with extension sides.     Evenly spaced feed dropping system.     Sheep and cattle feeder.      Electric operationand digital counter      Fully galvanised      Robust construction  SHEEPSNACKER SUMMARY   The Chapman TF350 towable sheep snacker, also knownas a livestock feeder is designed and built to an exceptionally high standard,perfectly balanced and finished in galvanised steel for lasting durability.It also has 300mm market leading ground clearancewith go anywhere capabilities and comes with the belly plate as standard forprotection.   The TF350 feeder has a 320 litres capacity, galvanisedsteel hopper (approx 300 kg feed), PVC tonneau cover, 22 x 11 x 18 inchesflotation tyres, mudguards and electronic control box as standard.Call us on 0845 3731832 or 07866 493992 for more information or a quotation.Contact details:We areavailable seven days a weekWeekdays till 8 PMWeekends till 5 PMOut of office hourscall 07866 493992Office                             08453731 832Fax                                08453731 842Mobile                           07866 493 992Email                             info@freshgroup.netSkype                            keith.douglas3112Payment detailsDependent on payment method additional fees may apply, therefore pleasecontact us when ordering to confirm best/suitable payment method.Postal Order or Banker's Draft                    AcceptedPersonal or Businesscheque                       AcceptedCredit card                                               AcceptedBankTransfer/BACS                                   AcceptedWe now accept payment in EUROFinance is available to business owners(subject to status) Call us for a quote on 2 to 5 years plans.Prices quoted are plus Vat and includeFREE delivery to mainland UK* dependent on location some deliveries may be a 2to 3 days service!This advert isprotected by copyright legislation and must not be in part(s) or in fullcopied.Terms and ConditionsPaymentAll goods supplied are subjectto vat at the current prevailing rate and will be suppliedwith a vat Invoice. We accept bank transfer, credit and debit cardpayments, cheques, and PayPal. All types of payments received must be clearedfunds in full before any goods are dispatched.Delivery/PostageAn additional carriage charge willapply to all goods dispatched outside UK Mainland, eg: EU Countries, Isle of Wightor any Channel Islands etc. please call or email us where we will behappy to quote a price for a door to door delivery service. Please notethat you must be present to sign for your goods, deliveries will not be leftwithout an authorised signature, a neighbour may sign for the goods but wemust receive prior to the goods being delivered a written instruction fromthe purchaser! Additional charges may apply if no one is available to sign andreceive the goods; this is normally a re-delivery charge from the carrier whichwill be charged at cost. It is the responsibility of our customers to take outpostage insurance cover, if you choose not to take out postal insurance;we will not accept responsibility for lost or damaged goods. Let us know if youwish to discuss exclusive discounts rates for insurance.ReturnsWe offer a 7-days money back guaranteesubject to the item not being used and returned in their original undamagedpackaging, you must obtain a returns reference from us by email first, andif you return goods without a returns reference they will not be accepted.It is the responsibility of the customers to return goods to our choice ofdestination within the UK mainland should they be damaged on arrival,under warranty or no longer required. No credit will be given for carriage costof original sales invoice.This advert is protected by copyrightlegislation and must not be copied in part(s) or in full.
Click here to buy, and to see similar items on eBay
---
Category: Business, Office and Industrial:Agriculture/Farming:Farm Implements and Equipment
Location: Berkshire